Not a huge fan of Matt Berry, but the guy does some great things with stats...here's his 2012 100 Facts:
100 Facts you need to know before you draft
[+] Enlarge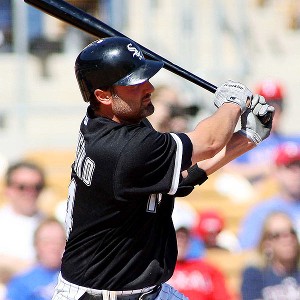 Jake Roth/US PresswirePaul Konerko: An oldie but definitely still a goodie.
1.
Over the past three years, of all the players who finished in the top 10 on our
Player Rater
yet were drafted outside the top 40 (i.e., the players who greatly outperformed their draft slots), 73 percent of them were veterans coming off down seasons.
2.
Since 1999,
Paul Konerko
has averaged 147 games played and 30 homers per season.
3.
Konerko is one of two players in all of baseball to hit .300 with 30 home runs and 100 RBIs in
each
of the past two years.
4.
The other? Miguel Cabrera.
5.
Meanwhile,
Mark Teixeira
's last .300-30-100 season was back in 2008.
6.
Teixeira has an average draft position (ADP) of 24th overall.
7.
That's almost two full rounds before Konerko (current ADP: 42nd).
8.
Last year, Player A had the following line:
9.
Last year, Player B had the following line:
10.
Player A is
Alex Avila
. He is currently being selected, on average, in the 13th round of ESPN live drafts.
11.
Player B is
Brian McCann
. He is currently being selected, on average, in the seventh round of ESPN live drafts.
12. I have tremendous guilt about my dog. With my newborn twins around, my dog, Macy, who is 13 years old, can't be inside as much as before, so she doesn't get nearly as much attention as she used to. She has never really liked other dogs; what she really needs and craves is human attention. I don't know what to do.
14.
Last season,
Howard Kendrick
had 197 plate appearances as the No. 2 hitter for the Angels, his most common lineup slot.
15.
Last year,
Bobby Abreu
,
Torii Hunter
and
Maicer Izturis
had a combined 138 games in the Angels' No. 3 lineup slot.
16.
This offseason, the Angels signed
Albert Pujols
.
17.
Kendrick is a career .292 hitter, and he scored 86 runs last year.
18.
Last season, only four players in baseball hit .295 or better and had at least 25 home runs, 20 stolen bases, 90 runs scored and 90 RBIs. They are:
Matt Kemp
,
Ryan Braun
,
Jacoby Ellsbury
and
Carlos Gonzalez
.
19.
Only
one
player in baseball has achieved those marks for two straight seasons: Carlos Gonzalez
20.
Kemp, Braun and Ellsbury are all being drafted among the first eight picks overall.
21.
CarGo is being drafted at the end of the second round.
22.
Oh yeah, and CarGo is just 26 years old.
23. On the Fantasy Focus podcast, we have a sound effect that we play sometimes called "comedy goalie." We play it whenever a joke or comment one of us makes (almost always one of mine) needs to be edited out for whatever reason. It's a phrase I picked up from my old sitcom-writing days, because on this one show I wrote for we had one writer who never pitched jokes of her own. But anytime someone else would pitch a joke, she'd say, "That's not funny." Or, "That's hacky. I heard that on 'Friends.'" Or just something negative. We started calling her the "comedy goalie" behind her back. "No comedy is getting in here! I'm blocking everything."
24.
Why did I bring this up here, randomly, on Nos. 23 and 24? Oh, no reason. No reason at all.
25.
Last year, including the postseason,
Justin Verlander
threw 4,301 pitches.
26.
In fact, Verlander's 4,301 pitches were the most thrown in a regular season and postseason since 2002.
27.
It's also 557 pitches more than he threw in 2010.
28.
xFip (Expected Fielding Independent Pitching) is considered a good indicator for future performance.
29.
Last season,
Zack Greinke
's xFIP was 2.56, best in baseball.
30.
Madison Bumgarner
's xFIP was 3.10, seventh-best in baseball …
31.
… one spot ahead of Verlander's xFIP rank.
32.
And tied for 12th with an xFIP of 3.25?
Anibal Sanchez
.
33.
One last xFIP note:
Jonathon Niese
had a fine 3.28 xFIP last year.
34.
Back to Bumgarner: He has 15 K's and just one walk in 14 2/3 spring training innings (through March 21).
35.
As long as we are talking spring stats,
Francisco Liriano
has 18 K's and two walks in 13 innings.
36.
Two other K/BB notes for you AL- or NL-only owners:
Wade LeBlanc
has 15 K's and two walks in 14 2/3 innings, and
Brian Matusz
has 16 K's and one walk in 15 innings.
37. I have become obsessed with the show "Storage Wars." Michelle Beadle and I discussed this on her podcast last week. Where did Barry get his money? What's the story with Jarrod and Brandi? Who is Dave fooling? Is it real? How many lockers do they shoot to get the three decent ones they need for an episode? What's with all the other people that show up at these auctions? So many questions. I could watch that show all day. Correction: I do watch that show all day.
[+] Enlarge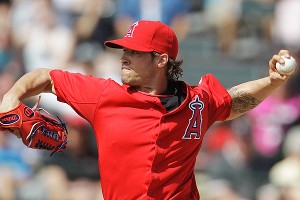 AP Photo/Darron CummingsThe change in ballparks (from Texas to Los Angeles) should improve C.J. Wilson's numbers.
38.
In the past two years, as a starter,
C.J. Wilson
's home numbers look like this: 216 2/3 IP, 189 K, 76 BB, 3.70 ERA, 1.25 WHIP, 7.9 K/9 rate, 16 home runs allowed.
39.
On the road? Try this: 211 IP, 187 K, 91 BB, 2.56 ERA, 1.18 WHIP, 8.0 K/9, 10 home runs allowed.
40.
As Todd Zola notes in his
players changing teams
(Insider) article, Rangers Ballpark in Arlington inflates run-scoring by 19 percent. And Wilson's new home park, Angels Stadium: It depresses runs by 9 percent.
41.
James McDonald
's first four starts in 2011: 19 IP, 10.13 ERA, 1.95 WHIP, 5.7 K/9, 5.7 BB/9.
42.
McDonald's last 27 starts: 152 IP, 3.49 ERA, 1.43 WHIP, 7.7 K/9, 3.9 BB/9. That's useful in NL-only leagues.
43.
On June 26, 2011,
Cory Luebke
joined the
San Diego Padres
' starting rotation.
44.
From that point on, Luebke had a 3.31 ERA, a 1.09 WHIP and was 12th in the majors with 111 strikeouts over that time frame.
45.
In 2011,
Chris Heisey
hit a home run every 15.5 at-bats.
46.
As a comparison, Pujols hit one every 15.6 at-bats.
47.
Heisey has a chance at being the
Cincinnati Reds
' everyday left fielder.
48.
More fun with AB/HR ratios:
Allen Craig
homered every 18.2 at-bats last season.
49.
And
David Ortiz
hit one every 18.1 at-bats.
50. I like to work at night, and sometimes it's easier to work late at the office. For instance, I am writing this sentence at 1:21 a.m. The lights in my building are on timers. So even if I'm at my desk working, the lights turn off all around me every 20 minutes or so. I have to get up from my desk and walk around, waving my arms, to get the sensors to pick me up. I feel like an idiot doing it, and I'm sure I look like an idiot doing it.
51.
Here's another blind resume: Player A hit .311, with 106 runs, 29 homers, 112 RBIs and 22 steals in 159 games played.
52.
Player B: .284, 78 runs, 18 HRs, 79 RBIs, 20 SBs, 134 games played.
53.
Player A's line shows
David Wright
's averages from 2005 to 2008.
54.
Player B's line shows Wright's averages from 2009 to 2011.
55.
Last season,
Jeff Francoeur
had a .285 average, 77 runs, 20 homers, 87 RBIs and 22 steals.
57.
Over the past five seasons (2007-11), only four shortstop-eligible players have had a season in which they posted a .290-plus batting average and 40-plus steals.
58.
They are:
Jose Reyes
in 2008,
Hanley Ramirez
in 2007,
Jimmy Rollins
in 2007 and …
Emilio Bonifacio
in 2011.
59.
Over the past three years,
Andrew Bailey
's WHIP is 0.95.
60.
Only
Mike Adams
,
Mariano Rivera
and
Neftali Feliz
have posted lower WHIPs (minimum 150 innings pitched).
61.
Over the past three seasons, Bailey has a 2.07 ERA, 0.95 WHIP and 174 strikeouts in 174 innings and is 75-o- 84 in save chances (89.3 percent conversion rate).
62.
Over the past three seasons,
Jonathan Papelbon
has a 2.89 ERA, a 1.12 WHIP and 239 strikeouts in 199 1/3 innings and is 106-of-120 in save chances (88.3 percent).
63.
Papelbon is going seven rounds before Bailey in ESPN live drafts.
64.
In 2011,
CC Sabathia
and
Felix Hernandez
each had 22 quality starts.
65.
That's the same number as …
R.A. Dickey
.
66. I know it's the most clichéd thing in the universe, but I can't tell you how much my outlook on everything has changed now that I have kids. I mean everything. It's indescribable.
67.
Peter Bourjos
's pre-All-Star break numbers in 2011: 33 runs, 3 HRs, 17 RBIs, 11 SBs and a .272 average in 287 at-bats.
68.
Bourjos after the 2011 All-Star break: 39 runs, 9 HRs, 26 RBIs, 11 SBs and a .270 average in 215 at-bats.
69.
Despite getting only 301 major league at-bats as a rookie in 2011,
Lucas Duda
had 17 extra-base hits on two-strike counts, tied for most on the team.
70.
Prince Fielder
hit 24 home runs at Miller Park last season.
71.
Nine of those home runs would
not
have been home runs at his new home, Comerica Park.
72.
No one hit more home runs last year after the All-Star break than
Dan Uggla
.
73.
He also hit .296 over that time frame.
74.
Speaking of second-half power, Uggla, Ellsbury,
Evan Longoria
, Pujols and
Ian Kinsler
were the only players to hit more home runs after the All-Star break than
Josh Willingham
, who had 18 home runs and 54 RBIs in 243 post-ASB at-bats.
75.
One more second-half list: Kemp, Kinsler,
Curtis Granderson
, Ellsbury and Braun were the only players to score more runs after the All-Star break than
Dexter Fowler
.
76.
Fowler also had 10 steals and hit .288 in 271 post-ASB at-bats.
77. I recently spoke at the MIT Sloan Sports Analytics Conference. Had a total blast. Awesome event. Was really nervous before it, and I don't usually get nervous these days. But it was all about analytics, and while I know my way around a stat book, Bill James I am not. I've never hung my hat on being the "statiest" guy around. Rather, I'm the guy who makes up words like "statiest." But it turned out great. I was well-received, I met tons of amazing people and I can't wait to go next year. The lesson, as always, is nothing productive comes from fear.
78.
Speaking of that conference, I met a super smart kid named Mike Attanasio. We discussed
Aramis Ramirez
, who is on my "hate" list for 2012. We talked about his home/road splits, his age, his six home runs at Wrigley last year that
wouldn't
have left Miller Park, etc. Well, when signing with the Brewers this past offseason, Ramirez stated that he was looking forward to playing in Miller Park's temperature-controlled environment. So Mike looked at Aramis' stats by temperature and sent me a whole study. Below is a snippet of his report: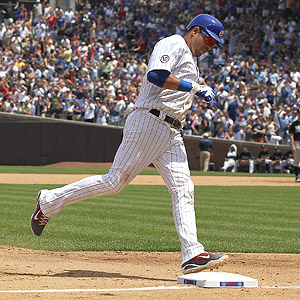 Jonathan Daniel/Getty ImagesLast season, Aramis Ramirez was a better "warm-weather" hitter.
79.
When playing in 30-to-50 degree weather in 2011, Ramirez posted these numbers: .240 AVG, .333 OBP, .360 SLG, 1 HR and 2 RBIs in 57 plate appearances.
80.
Ramirez in 60-70 degrees in 2011: .309 AVG, .373 OBP, .436 SLG, 4 HRs, 23 RBIs in 126 plate appearances. According to Mike's calculations, 44 of Ramirez's first 51 games this season will be in weather that is likely to be 60 degrees or above, perhaps helping him avoid a slow start.
81.
I still don't like Ramirez where he's being drafted, but it's interesting, no?
82.
In 2011, there were only 13 pitchers who threw enough innings to qualify for the ERA title, struck out fewer than six batters per nine innings and had a K/BB ratio
worse
than 2-to-1.
83.
Of those 13, the guy with the second-lowest ERA was
Paul Maholm
at 3.66.
84.
And the lowest ERA?
Jeremy Hellickson
's 2.95.
85.
Hellickson's xFIP, however, was 4.72.
86.
Over the past three seasons, only one major league team has had more save opportunities than the … San Diego Padres.
87.
The top five teams in save opportunities from 2009 to 2011: the Giants (197), Padres and Braves tied (194), Marlins (192) and … the
Washington Nationals
(191).
88.
The
Philadelphia Phillies
, who have been to the postseason each of the past three seasons (the timeframe I referred to above), are middle of the pack, tied for 14th with 180 save opportunities.
89.
Over the last three seasons, with Ozzie Guillen as their manager, the
Chicago White Sox
attempted 535 steal attempts, fifth-most in the majors over that time frame.
90.
Guillen now manages the
Miami Marlins
.
91.
Reyes, Hanley Ramirez and
Emilio Bonifacio
all play for Miami.
92. The "personal" stats are often more hard to come up with than the player stats. Probably should have thought about that before I agreed to write a book, huh?
93.
Michael Morse
joined the Nationals' starting lineup on June 10, 2010.
94.
From June 10, 2010, to the end of last season, Morse, who qualifies in the outfield and at first base, hit 46 home runs, had 134 RBIs and posted a .297 average over 767 at-bats.
95.
From June 10, 2010, to the end of last season,
Matt Holliday
had 44 home runs, 153 RBIs and a .308 average over 822 at-bats.
96.
Holliday is being selected, on average, in the fourth round of ESPN live drafts.
97.
That's four rounds ahead of Michael Morse.
98.
As of this writing,
Ryan Raburn
is hitting .462 this spring and leads the majors with six home runs.
99.
Last year, the spring training leader in home runs was …
Jake Fox
of Baltimore, with 10 homers and a .297 average.
100.
I actually like Raburn, but come on. It's just one stat!
13.
Part of me feels like I should give her up for adoption, because that might lead to a better life for her. But another part of me loves her too much to do that. She has been with me through a lot -- a cross-country move, a divorce, a new marriage -- and as the current Mrs. Roto and I joined families, she really was all I brought to the party. I'm concerned that what's best for my dog isn't best for me. But then, who gives away their dog after 13 years? Is it a jerk move to give her away? Is it a jerk move to keep her if she could have a better life with someone who could give her more attention? I think about this a lot.